I'm pleased to be the next leg of the blog tour for Liz Faraim's Canopy. I won't talk your ear off. Want to know more about the book and the author? Sure you do…
Liz Faraim has a new lesbian contemporary thriller out, book 1 in the Vivian Chastain series: "Canopy."
Vivian Chastain is an adrenaline addicted veteran transitioning to civilian life in Sacramento, California. She settles into a new routine while she finishes up college and works as a bartender, covering up her intense anxiety with fake bravado and swagger. All Vivian wants is peace and quiet, but her whole trajectory changes when she stumbles upon a heinous crime in progress, and has to fight for her life to get away.
While recovering from the fight, she falls in love with someone who is tall in stature but short on emotional intelligence, and this toxic union provides Vivian the relationship that she thinks she needs. Given Vivian's insecurities and traumatic past, she clings to the relationship even while it destroys her.
Prone to fits of rage, the spiraling of Vivian's temper creates a turning point for her as she looks within to find the peace she seeks.
Vivian's alcoholic brother and emotionally devoid mother serve as frequent thorns in her side, prompting her turbulent history to often bubble up to the surface. The bubbling turns to a rolling boil when Vivian's brother lands himself in jail for drunken indiscretions, and not long afterward her partner is arrested for something so atrocious Vivian cannot even fathom it. She is left pondering whether or not to believe that the person she loves could have committed such an inexcusable crime.
Vivian's relationships are strained to their breaking points as she continues to seek balance. She turns to her best friend for support, only to be left empty handed and alone until she finds comradery and care from the last person she would have thought.
---
Giveaway
Liz is giving away a $20 Amazon gift card with this tour:
a Rafflecopter giveawayhttps://widget-prime.rafflecopter.com/launch.js
Direct Link: http://www.rafflecopter.com/rafl/display/b60e8d47156/?
---
Excerpt
There's a lot of excitement prior to a book release, and there is also a lot to do to prepare. Writing, for many, is an endless cycle of creativity and self-doubt. So when it comes time to choose a few excerpts of your work to share to garner interest in your new book, hopefully you're not in the self-doubt part of your creative cycle. Can you take one guess what phase I am in?
Anyway, I am so happy that Canopy has been released out into the wild at last, and wanted to share some of the story with you. Canopy is told from the perspective of Vivian, who is a queer veteran with PTSD who works as a bartender and is trying to adjust to civilian life. She seeks out adrenaline rushes and has a quick temper.
In this scene, she has spotted a grifter stealing her tip off of the bar. Word to the wise, don't steal money from Vivian.
Rage was pulsing through me so hotly, I wanted to rip the guy apart. I was so angry; I fought the primal urge to bite him. He smelled like beer and a week's worth of BO. I knew my anger was way out of proportion to his crime, which was how I kept myself mostly reined in. But…
I pressed down on both pressure points even harder. He squealed and kicked his feet helplessly. I pulled down more on the back of his neck and ground his forehead onto the bar top and leaned down until my lips were brushing his ear.
"Listen to me, you nasty little fuck," I growled through clenched teeth and spoke in a clipped, angry tone. "Do not ever come into this bar again. If I see you in here, I will break your clavicle. Do you understand?"
He nodded slightly and started panting. The smell of piss filled the air.
"Do you understand me?" I growled again.
"Yes. Yes. I understand." His voice was muffled by the wood of the bar and the music.
I looked up and saw Buck and two other security officers pushing through the crowd.
"Lucky you, I have to let go of you now. Are you going to behave?"
He tried to nod and squealed, "Yes."
Buck walked right up behind him and tilted her head at me slightly.
"I'm eighty-six-ing this piece of shit. I caught him stealing." That was all Buck needed to hear. People caught stealing from the bar or staff were dealt with firmly.
---
Author Bio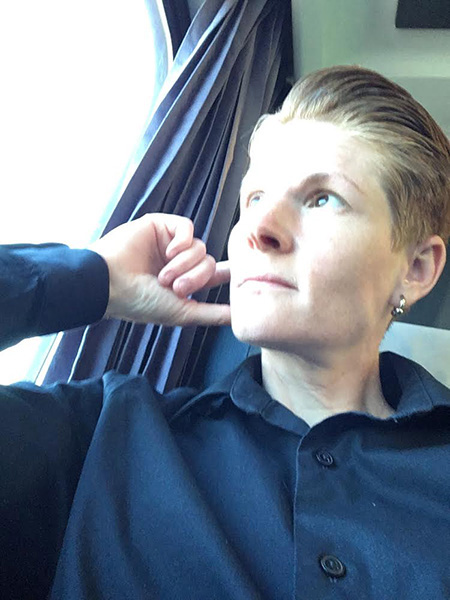 Liz Faraim is a recovering workaholic who has mastered multi-tasking, including balancing a day job, solo parenting, writing, and finding some semblance of a social life. In past lives she has been a soldier, a bartender, a shoe salesperson, an assistant museum curator, and even a driving instructor.
Liz writes contemporary fiction that highlights queer characters and often includes complex polyamorous relationships. Her writing has a hefty dose of soul searching and emotional turmoil while also taking the reader on fun adventures. She loves spending time in nature and does her best to share nature with her readers.
Author Website: www.lizfarim.com
Author Facebook (Personal): https://www.facebook.com/elizabeth.loud.16
Author Facebook (Author Page): https://www.facebook.com/liz.faraim.9
Author Twitter: @FaraimLiz